Program Arcade Games
With Python And Pygame
Lab 4: Loopy Lab
Write a Python program named part_1.py that will print the following:

10
11 12
13 14 15
16 17 18 19
20 21 22 23 24
25 26 27 28 29 30
31 32 33 34 35 36 37
38 39 40 41 42 43 44 45
46 47 48 49 50 51 52 53 54

Tips for Part 1
Generate the output for part one using two for loops, one nested.
Create a separate variable to store numbers that will be printed.
This problem requires a bit of an "a-ha" to get. Make sure to ask around if you have problems. My students often find it to be one of the harder problems in this course.
Write a program named part_2.py that:
Takes a list of five numbers from the user
Prints the list
Prints the average
Modifies the list so each element is one greater than it was before
Prints the modified list
Example:

Part 2
Enter 5 numbers:
Enter a number: 4
Enter a number: 8
Enter a number: 2
Enter a number: 3
Enter a number: 5
You entered: [4, 8, 2, 3, 5]
The average of those numbers is: 4.4
That same list with 1 added to each number: [5, 9, 3, 4, 6]

Tips for Part 2
Allow the user to enter a number.
Add the number to a list.
At the end of the loop, print the list.
Use a loop to total all numbers entered. (Yes, there is a sum command, but practice using the for loop please.
Divide the total by five to get the average.
Use a loop to add one to each number in the list
Print the resulting list (with the 1 added to each element).
This part demonstrates how to create a list, how to total a list, and how to change each item in a list.
Start with the pygame template code:
pygame_base_template.py
Rename the file to part_3.py. Use nested for loops to draw small green rectangles. Make the image look like Figure 26.1.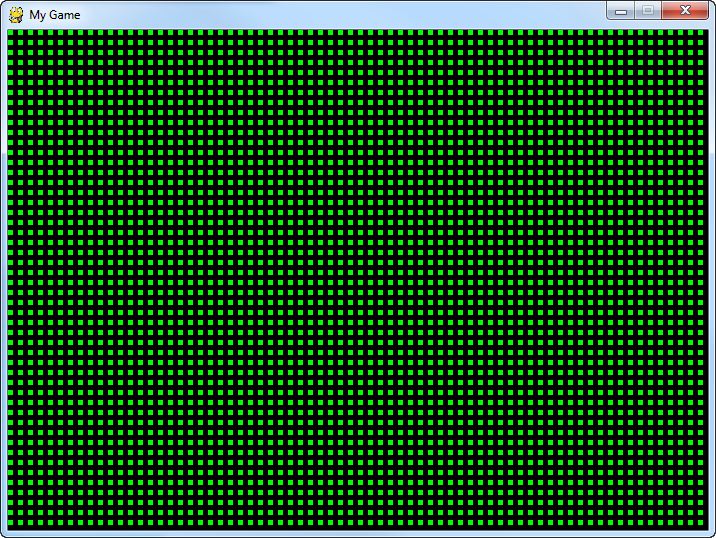 Do not create the grid by drawing lines, use a grid created by rectangles.
If this is too boring, create a similar grid of something else. It is ok to change the color, size, and type of shape drawn. Just get used to using nested for loops to generate a grid.
---
You are not logged in. Log in here and track your progress.